The 2020 Levitator, a motorized electric foil board, battery powered, remote controlled. The E-Foil flies up to 20+ mph, for over 1 hour on a charge. The worlds best value electric foil board. Quick learning curve, more stable than other electric foil boards, Affordable payment plan. $5999.00 - 800 969 7473
The Levitator

electric foil board -

Specs

:
Board
- 6'8" x 28" x 5.5" -
Construction

. Carbon fiber glass, wood veneers, over EPS core - Epoxy resin laminated. -

Electronics -

2 internal compartments houses controller, bluetooth circuits, and battery - and a 4 latch access hatch covers and seals internal components.
Foil
-
All carbon, mast, with 1 piece wing
, plate mounted.

Battery -

36 volt lithium ion, sealed.

Foil

Motor-

magnetic induction power to prop shaft and propellor.

controller

unit

- Communicates between remote control, battery and foil motor.
Remote control -
Hand held, 15 speed, water resistant 4 button - Power on/increase, Power down, Power off, Pairing button.

Leash

mounted w

magnet

for kill function
Board Colors
Arctic White Gloss Carbon Black 800-969-7473 Dealers wanted.
E-fin - Make your
paddle board electric!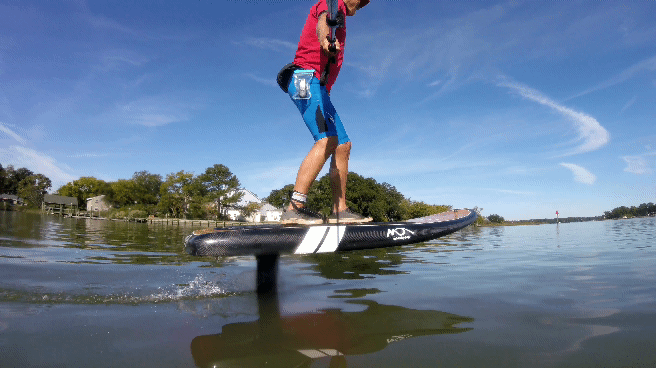 The Levitator - Above - Foil mounted bottom view. below - Hatch cover, Internals, Dry compartment w Battery and bluetooth circuit , wet compartment with controller unit, and wires in dry capsules. Controller has fail safe, limits power if any wire connections get wet.