Levitator - Electric Foil Board
The 2020 Levitator - Electric Foil Board
Stable, easy to master, short learning curve. The E-Foil goes to 20+ mph, can run over 1 hour on a charge.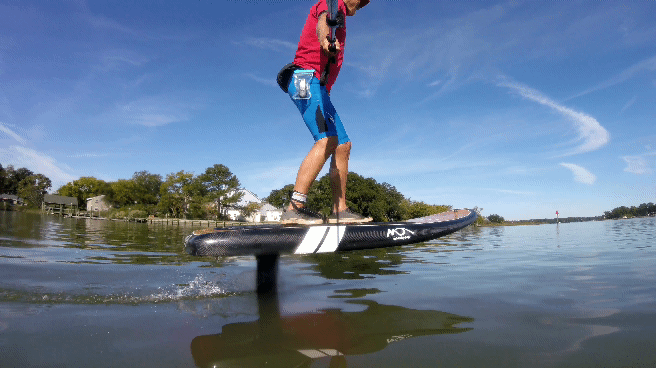 Specs

:

Board
- 6'8" x 28" x 5.5"
Construction -

Carbon fiberglass, wood veneers, over EPS core. Epoxy resin laminated.
Electronics -

2 internal compartments - 1 Dry houses bluetooth circuits and battery. 2 The controller and foil wires.
Hatch cover - 4 latch access covers and seals internal components.
Foil
-
All carbon. Mast, 1 piece wing,
plate mounts to board.
Battery -

36 volt lithium-ion, sealed.
Foil

Motor -

Magnetic induction power to prop shaft and propellor.
Controller

Unit

- Communicates between remote control, battery and foil motor.
Remote control -
4 button handheld, 15 speed, water-resistant. - Power on/increase, Power down, Power off, Pairing button.
Leash

- Mounted w magnet

for kill/saftey function.
Board Colors
- Arctic White , Gloss Carbon Black
$6999.00
Affordable payment plan.
1-800-969-7473 Inquire for wholesale pricing. Dealers wanted.
E-fin - Make your
paddle board electric!